Posts tagged
Games for Kids
My very first computer was an Apple IIgs. I called it the Apple Igloo. I was 7. And getting a family computer was a BIG. DEAL.
Today's small people are exposed to technology from birth. (My kids had sensors and monitors attached to their tiny persons for three months, so I am totally not exaggerating.) My friend's 3-year-old daughter recently melted down over a children's picture book because the illustration wasn't enlarging as she swiped the page with her thumb and middle finger. (I am not making this up.)
Our family is no exception. Our Silicon Valley household has suited up the original iPad in an Otterbox Defender case and set it forth upon twin 2-year-old toddlers. What apps will keep their attention? Grabbing their attention is key, because otherwise the device is going to get flung across the room. And that would be a bummer.
So while we've looked at colors, numbers and storybook apps, the one that seems to be the winner (as judged by little boys named Search and Destroy) is Wheels on the Bus HD, an interactive musical playbook by Duck Duck Moose.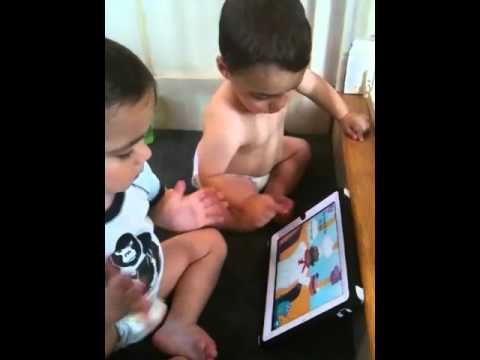 Warning: Your little loves will love the constant repetition of each verse of the well-known children's song on every play-along page. You will think it's cute the first time you play along. Then you will hate it. (This will make kids love it more.)
Corporate writer by day, mommy blogger by night, Tricia is raising twin toddlers – Search and Destroy. Instead of having one baby after 9 months, she had two after 6; she's efficient like that. Tricia is a hybrid – running on coffee and chocolate. Tricia also rambles on her personal blog: Stream Of The Conscious.